Dré Pallemaerts chronologies
Drummer, composer, teacher and sound engineer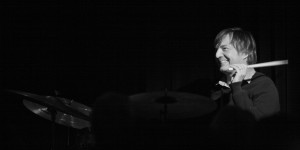 Is born on 14 July 1964, gets his first drum set at the age of 5, starts playing dance music with his brother Jacky Pallemaerts when he was 10 and gets into jazz at the age of 14.
Studies with drummer Jeff Hamilton in Los Angeles.
Joins the Jack van Poll 3 and accompanies lots of soloists like Dee Dee Bridgewater, Etta Cameron, Dee Daniels, Arnett Cobb, Dave Pike, Spike Robinson…
Lives in Seattle and plays with Art Farmer, Ernestine Anderson and James Williams.
Plays and records with Joe Lovano, Michel Herr, Bert Joris.
Lives in New York and plays with several artists like Fred Herch, Judy Niemack, David Kikosky…
Joins the Phillip Catherine 3, the Toon Roos 4 and the Serge Lazarevitch 4.
Records, plays and studies with Bob Brookmeyer.
Is a member of the Brussels Jazz Orchestra.
Is part of many Michel Herr, Bert Joris, Kris Defoort, Erwin Vann, Frank Vaganee, and many other projects.
Performs with artists like John Scofield, Mal Waldron, Tom Harrell, Steve Grossman, Mark Turner, John Ruocco, Kenny Werner, Kenny Wheeler, Chris Potter…
Works on an electronic music project under the name DP.
Records and tours with Bill Carrothers 3, Andy Scherrer 4 and plays regularly with Toots Thielemans.                                                                    Works with several French musicians like Frank Amsallem, Stephane Belmondo, Alex Tassel, Franck Avitabile…
Is a member of the Baptiste Trotignon – David El Malek group,
the Yusef Latief – Belmondo Brothers project.
Starts improvisation project "Let's Call Ed" with Erwin Vann and electronic project/remix "21 Emanations" with Octurn.
Releases 1st album "Pan Harmonie" on Bflat with Mark Turner, Stephane Belmondo, Jozef Dumoulin and Bill Carrothers.
Is a member of the Baptiste Trotignon 3, Robin Verheyen 4, Belmondo 5 and Belmondo "Hymne Au Soleil", Alexandra Grimal 4, Octurn "Songbook of changes" and "Gyoto" projects, Paul Lay 3 & 4, Melanie De Biasio Band,….
Creates the record label and mix/mastering studio company 52creations.
Releases 2nd album "Coutances" on 52creations with Mark Turner, Jozef Dumoulin and Bill Carrothers.
Tours and records with The Macha Gharibian 3, Julien Tassin 3, Ben Sluijs 4, Michel Herr ensemble, Bert Joris 4 and Novastar.
Releases 3th album Dre Pallemaerts Seva "Winter" with Pablo Held, Sebastian Gille and Clemens Van Der Feen on 52creations.
Side activities:
Works as sound engineer for recording, mixing and mastering.
Teaches at "CNSM" de Paris, France and "Lemmens – LUCA" Leuven, Belgium.